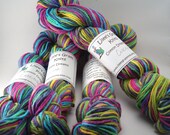 This yarn has been hand painted with love by me. When I dye this type of yarn, I crochet or knit multiple strands together before dying. This allows me to make a batch or lot of skeins that match up. No more fraternal items.
There is enough yarn here for a scarf, towel, dishclothes, hat, neck warmer, wrist warmers, etc. This cotton has been processed with hot water and steamed. It should not shrink. The dyes will fade if the yarn is bleached, so if you are going to make kitchen items and want to preserve the color, instead of bleach I suggest you add some vinegar to the hot/warm wash water.
My Hubby really loves the dish clothes I made him out of this cotton! So I keep him stocked up....I will do whatever it takes to get out of doing dishes! lol
Click Here to Visit My Etsy Shop!